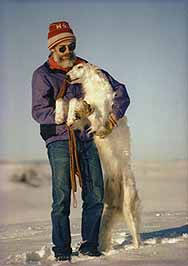 .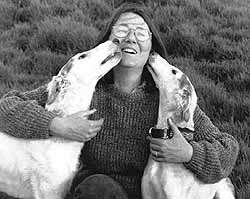 Rey and Shango Yvonne, Biri and Velika.

---

Brief Biographies
Yvonne was born in 1953, and grew up in NJ. She started learning about and training dogs in the 1960's. She and her collie Highground Tom Jones CD earned their first obedience title together in Feb of 1969. She started visiting borzoi breeders and going to shows to observe and learn about them in 1973; acquired her first borzoi in 1975; relocated to Washington state; and started coursing him in the open field in CA the following year. She did lure coursing with him too, in places as diverse as NJ, Delaware, PA, WA, and BC Canada. She has continued with unabated enthusiasm for borzoi and for open field coursing since that time.

She was a student of the breed for 12 years before having her first litter, born in November of 1987. Since then, she has successfully coursed borzoi of her own breeding in several states. Yvonne is still a student of the breed, continuing to learn every day of her life spent with borzoi.
-----------------------------------------------------
Rey was born in 1956. He married into borzoi on July 17, 1993, and has been researching the history of the borzoi breed ever since, as well as actively coursing and writing about breed history and developement. Rey and Yvonne now live with their borzoi on a small acreage.

Valeska has bred dogs earning top honors in the open field and in the show ring, with individuals capable of excelling at both. Open field performance will always be the most important venue in our eyes, but nothing is more important than good health and good temperaments. And no competetive venue is more important than the dogs themselves.

---

About Our Goals---Purpose and Priorities
We are a small hobby kennel, maintained for our own enjoyment of and love of this breed. We breed for our conception of the best possible borzoi, who will be beautiful and healthy in body and mind. We think that breeding for show purposes should always be secondary or tertiary to breeding for breed preservation, health, mental soundness, and athletic ability. Breeding , if done with the best interests of the dogs foremost in mind, is a costly and labor-intensive endeavor, to be engaged in out of love and cherishing of the breed and it's irreplaceable qualities, rather than from a desire to win at any cost, regardless of detrimental effects on the dogs themselves. We don't feel that dog shows alone are the best criteria for breeding mental and physical soundness. In fact, shows sometimes promote the reverse of these qualities. We don't believe that dog shows are a significant factor in preserving historic type, in producing healthy dogs, or in canine welfare.

First priorities in breeding should involve concern for health and temperament. Keep in mind that temperament is breed specific, so good temperament for a laborador retreiver will be quite different than good temperament for a borzoi. Health issues also are breed specific, with problem areas in one breed being different than problem areas in another.

Following health and temperament, our priorities are shaped by two things: the historic work of the breed, and available historic information about the breed. Coursing hare, fox, and less commonly, wolves, is the work the borzoi was originally bred to perform. Hare was the predominant prey animal, and the closest activity we have today to that original work is open field coursing on blacktailed and whitetailed jackrabbits. Our conception of what qualities are required in an athletic borzoi is informed largely by years spent coursing jackrabbits with our dogs in the open field, which Yvonne began doing in about 1975. In the area of breed history, for the last 10 years Rey has been researching breed purpose and developement in Russia and the United States. He and Yvonne have written extensively about their findings, and their work has been published world-wide and translated into several languages. We find that open field performance and historic breed information are compatable with and supportive of each other. What we have learned about borzoi through our open field coursing experience, in conjunction with what we have learned from historic written information, photographs, illustrations, and the standards, forms the basis of our breeding.

Our dogs have competed in the show ring and walked away with top honors; we enjoy their successes, but that is not why we have this breed nor is it the reason why we have dogs. We have dogs because we love the breed and the individuals, and we think that to hold firm to that idea is important in a world where competetive success often supplants the initial interest in the dogs themselves, and becomes the only goal and the only reason for having dogs. In our opinion, breeding any breed should not be done with winning as the primary goal and wins as the primary selection criteria. All competition is only a small part of a dog's total life, and it is the total life that we feel is the most important thing.

The rest, in the words of the immortal bard, "...is a tale told by an idiot,
full of sound and fury, signifying nothing."

Our dogs have also taken top honors in the open field, which is more meanigful to us. But the most meaningful accomplishment to us is to produce beautiful long-lived healthy dogs who are sound in body and mind and a joy to live with. We bred the first borzoi service dog, Ch.Valeska Chase Clouds Away, who was also an AKC champion, an open field hunter, and who lived to be 13 1/2 years old with no medication or major health problems; we feel that his mental and physical qualities are truely a significant achievement.

Our goal: to produce healthy, athletic, beautiful dogs, with the sensitive, quietly loving temperament and strong coursing instinct typical of their breed; beautiful in body and mind; who will be understood, dearly loved, well cared for, and have long, rich, wonderful lives.

---