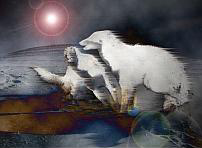 ~~Articles and Stories About Borzoi~~

---

Articles by Rey and Yvonne McGehee


A BOOK REVIEW by Rey, review of "The Dogs" written by Ivan Nazhivin in 1931.

HOW I SPENT MY SUMMER VACATION Rey's Borzoi trip to Russia.

Historic Breed Information, compiled by Rey McGehee
Historic Heights of Borzoi
Height changes in the standards
Historic and Current Breed Standards
Historic Borzoi Pedigrees



Borzoi hunting articles by Rey and Yvonne McGehee
OPEN FIELD COURSING A description of what to expect at a current-day open field coursing event, by Rey and Yvonne.


THE FIRST AMERICAN WATERLOO CUP About greyhound coursing.
---

Borzoi Stories by Yvonne and Rey

COYOTE GOING HOME
Excerpt from a story about coursing dogs and coyotes, by Yvonne.

BRILLIANT GREEN DAY A story about Juno's perfect morning, by Yvonne.

PEDIGREES An excerpt from a story about breeding dogs, by Yvonne.

TO ATAZH, WHO BECAME A FATHER LATE IN LIFE
The story of how old Atazh ruled his three sons with wit and insight, by Yvonne.

POEM FOR SILENT RUNNING by Yvonne.


A BORZOI HUNT IN RUSSIA A fictional hunting story, by Rey.

DANCES WITH COYOTES A coyote chase in the American West, by Rey.
---
THE EGOTISM OF FANCIERS Not written by McGehee's---By Hibernia 1890--
--in a class by itself.