Quadcore reviews: AMD's Barcelona versus and Intel's Clovertown and Harpertown
by William "Mr Bill" Shannon - 09:00 am mst, September 26, 2007, Wednesday

AMD's quad-core Opteron 2300 processors An exclusive first look at how 'Barcelona' measures up at The Tech Report, by Scott Wasson, 2:00 AM on September 10, 2007

Inside Barcelona: AMD's Next Generation at Real World Technologies, by David Kanter, Updated: 05-16-2007

AMD's Quad-Core Barcelona: Defending New Territory at AnandTech, by Johan De Gelas, September 10, 2007

Intel's Stoakley platform and 45nm Xeons In the wake of AMD's Barcelona, Intel counters at The Tech Report, by Scott Wasson, 4:00 PM on September 18, 2007

Intel "Harpertown" Xeon vs. AMD "Barcelona" Opteron at AnandTech, by Jason Clark & Ross Whitehead, September 18th, 2007

Merlins second time refurbished Mitochondria arrives
by William "Mr Bill" Shannon - 11:24 pm mst, August 08, 2007, Wednesday

The re-refurbished PC Power & Cooling TurboCool 510 XE arrived today. I put it in, including my raid controller and raid 10 drives and the whole assembly booted right up. I'm completely back up and running.

Merlins new Mitochondria fail
by William "Mr Bill" Shannon - 06:10 am mst, July 20, 2007, Friday

Well now, Merlin was working fine from the day the TurboCool 510 XE arrived until Thursday, July 12. I was using my PC, there was a slight click, and the system died. I pulled the PSU and checked it with an ATX power supply tester and it did not come on. I checked the tester on a different PSU and it came on. So, this 510XE seemed to be dead. I requested an RMA number to got a replacement. I've gotten the system rebooted on the Antec TruePower 550W PSU but only without my Adaptec 2230slp raid controller and 5 drives in raid 10. Apparently they draw too much power for the system to make it past initial boot up.

Merlin gets new mitochondria
by William "Mr Bill" Shannon - 09:10 am mst, June 20, 2007, Wednesday

My main PC Merlin has had its Antec TruePower 550W PSU fail twice now. Its not a catastrophic failure but the voltages just get too low. So, I decided to get something a little more substantial. I went over to the PC Power and Coolings website and checked out their Product Specials page. I decided on the TurboCool 510 XE since its ATX12V (2.2) / EPS12V compatable and has 24-pin, 8-pin, and P4 plugs for motherboard power. I like that its capacity is rated at 50C and that it has super tight 1% voltage regulation. My Antec 550 voltages have once again sagged 10% and I will be sending it back for its second warranty replacement. The problem with getting power for these older motherboards is that Athlon MP (dual CPU) generation of motherboards got most of their juice from the 5V rail. Merlin has an older MSI K7D Master-L motherboard that requires a minimum of 35A at 5V. Most newer power supplies don't have such heavy 5V requirements and draw off the 12V instead. I suppose its because the newer motherboards have voltage regualtor modules (VRM's) that can deal better with 12V. I ordered also some caps for the unused leads and a 24 to 20 pin adapter since the K7D Master is not an EPS12V board.

I searched around for several days looking for high efficiency (>75%) PSU's. I mean, why dissipate a large loss at the PSU when the electricity cost difference will buy the PSU after a couple years. I did not find any high efficiency PSU's that could deliver heavy 5V amperage. I wonder if thats part of the efficiency equation. Maybe its easier to have a high efficiency PSU if you can deliver most of the load at 12V instead of 5V. I wonder what the efficiency loss is for the VRM sections on the newer motherboards. Its surely good or the boards would get very very hot.

Energy Information Administration [EIA] links
by William "Mr Bill" Shannon - 00:10 am mst, January 25, 2006, Wednesday

This Week In Petroleum

Natural Gas Weekly Update

Heating Oil and Propane Update

Coal

Annual Energy Outlook 2006 with projections to 2030

Table C1 General Conversion Factors

More Dimethyl Ether [DME] links
by William "Mr Bill" Shannon - 13:20 pm mst, Feburary 7, 2005, Monday

Coal Conversion into Dimethyl Ether (Ohno and Omiya, 12th ICCS-Nov 2003)

Dimethyl ether (DME) from coal as a household cooking fuel in China (Larson and Yang, Princeton University, Sept 2004)

Market Outlook for Dimethyl Ether (DME) (Topic Report, April 2002, Department of Energy Cooperative Agreement No. DE-FC22-92PC90543)

Is There Room in the Atmosphere for Coal Synfuels? Opportunities for CO2 Capture/Storage and End-Use Efficiency Gain (Williams, Princeton University, GCEP Energy Workshop, Stanford University, 27 April 2004)

DME as an Automotive Fuel: Technical, Economic & Social Perspectives

The Year of Coal, Dimethyl Ether, and Methanol
by William "Mr Bill" Shannon - 15:50 pm mst, January 30, 2005, Sunday

I think Dimethyl Ether (DME) is going to be very big in the near future. DME is a nearly perfect substitute for natural gas and LPG for cooking and heating and can be delivered by the same system that is already in place. DME is also a superior fuel for Diesel engine use. DME allows higher efficiency, is cleaner burning, and easier on the environment. The great thing is DME can be produced via a logical extension of the Liquid Phase Methanol (LPMEOH) Process; aptly called the Liquid Phase DME (LPDME) process. We can convert coal to this beneficial fuel at an energy basis cost equivalent to $23/barrel oil. So, why does the Bush administration want to drill ANWR and the Roan Plateau when we have coal in abundance and the technology to convert it cleanly to an environmentally friendly fuel? Seriously, we need to think about this. DME is going to be better than hydrogen. I think this is the ideal portable fuel for home use, transportation, and energy production. Watch for it...

Wow! Its been almost a year!
by William "Mr Bill" Shannon - 10:00 pm mst, September 18, 2004, Saturday

Its been awhile since I posted anything here. Its my daily portal, because of the links to the right. I just have not had much to say.

26 days till Xmas
by William "Mr Bill" Shannon - 10:50 am mst, November 29, 2003, Saturday

Hope you all had a nice Turkey day. I've decided to get rid of dead links on this page and shorten the load time. I'll post some good review links for the new Dual Opteron rigs that are now out there. If you are in the mood for a movie in the seasonal spirit, I can heartly recommend Elf. This is really funny because Will Ferrell makes it funny. Go see it, you will laugh out loud! We clapped when the movie finished. This will be a holiday classic.

Macaulay on copyright law
by William "Mr Bill" Shannon - 14:00 pm mst, October 20, 2003, Monday

Here is a link to Eric Flints Prime Palavar #4 Macaulay on copyright law. The two speaches by Macualy given to Parliment in the year 1841 are really worth reading. It gives you an insight into how copyright and patent laws really started out. It makes one see how limiting the term of copyright is a benefit to civilization and lengthening it is deleterious to the growth of knowledge and the arts. I suggest the Baen Free Library is worth a visit and be sure to check out some of Eric's other Palivars.

The Quest for Ludicrous Speed Update
by William "Mr Bill" Shannon - 12:00 pm mst, October 18, 2003, Saturday

So, its saturday morning and I decided to swill some coffee and do a little rearranging of my website. A few weeks ago, I discovered that one of my drives has checked out of this world. In the process of troubleshooting I found that this drive was responsible for dragging down the performance of the whole system. So the results of the previous entry reflect only 10 drives with one drive hogging the SCSI bus. Since money is tight at present testing with more drives will have to wait till I can afford 5 more drives and some very long SCSI U320 cables to reach them.

I have this new server case that I purchased from Directron this summer for $329 + $50 shipping. It is indeed spacious and the locking steel doors are very nice and easy to open. There is room for an extended ATX motherboard and 20 devices. Realistically there is room for about 15 hard drives a couple DVD/CDR and a floppy. I have more than a few criticisms of this case. The metal edges are often sharp and dimensions are just a little bit off. The ATX PSU mounting plate only lets you put in a single PSU. This plate perfectly illustrates the rest of the case. You can turn it around so its upside down so you could perhaps mount your PSU with the fan hole pointing downward. Surprise! The screw holes don't quite line up to let you do this. The motherboard tray slides out but very grudgingly. Its a very tight fit. Sliding in the tray blocks off most access for cabling from the other side. The side panels swing outward like those on a chieftec case but are hard to close and the hinges are wicked sharp. The supplied drive mount rails are very hard to insert after being attached to drive mounting kits (which you must supply yourself). Screw holes don't quite line up and are easy to strip. One would think that with 8 supplied fans and 11 additional fan mounting points that one could get adaquate cooling. The front grills are roughly finished steel plates drilled with holes that are hardly adaquate for good airflow over SCSI drives. I cut out the center of each plate and installed circular grills to solve this problem. This case cries out for a 12 cm fan on the motherboard side. The two 80mm fans are not adaquate and I will eventually figure out a way to do this. I rate this case as 3 out of 5. The tight and sharp scraping fits are the primary reason. This manufacturer could take some lessons from the construction of the Chieftec Matrix.

The MPX 64-bit/66MHz PCI Bus and The Quest for Ludicrous Speed
by William "Mr Bill" Shannon - 9:15 am mst, September 06, 2003, Saturday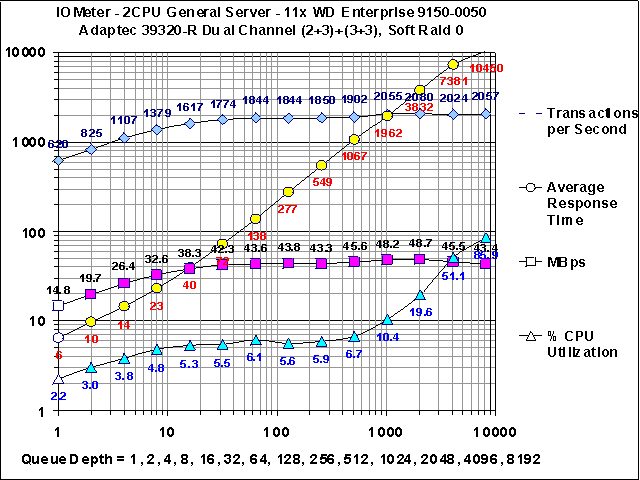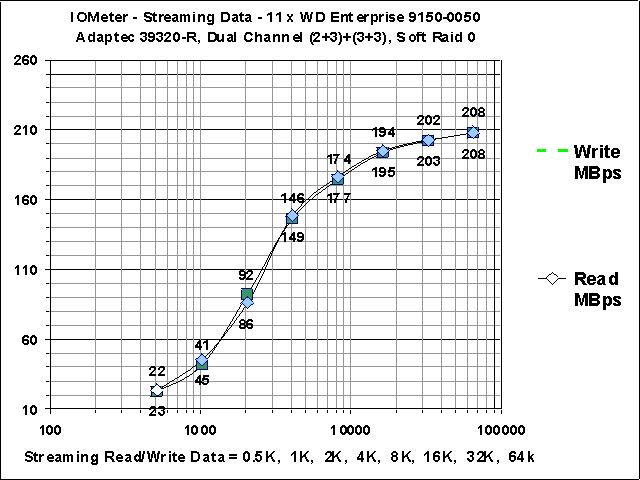 OK, I recently 'upgraded' my SCSI controller from a pair of Adaptec 3950U2, 64-bit/33MHz, dual U2 80Mb/sec channel SCSI adapters to a single Adaptec 39320-R 64-bit/66MHz Dual SCSI U320 Channel adapter. Here are the new IOMeter results for my array of 11 Western Digital model 9150-0050 10,000 rpm SCSI U160 drives. I use the 2CPU General Server access patterns in IOMeter and cycle the queue length from 1 to 10000 in powers of two. Initially, I tried benchmarking two software raid 0 array comprising 5 and 6 drives, respectively. This gave about half the performance at the smaller queue lengths, but also with about half the CPU usage. After some testing, I found that having the swap files distributed evenly over the raid 0 volumes being tested gave the best overall results. The best final performance was to create four IOMeter workers representing four software raid 0 arrays, comprising 3, 3, 3, and 2 drives and has equal or slightly lower CPU usage compared to using two 39350U2 controllers. This has interesting implications for benchmarking with IOMeter. Performance at small queue lengths and transfer sizes increases when number volumes and corresponding IOMeter workers are increased.

In previous tests with two Adaptec 3950U2 controllers, I had to split the drives into four channels comprising 3, 3, 3, and 2 drives because of the 80Mb/sec channel bandwidth. Using the 3950U2 cards IOMeter was unable to continue past a queue length of 2048 due to error rates and CPU usage increased dramatically before the program halted. The error rates were caused by cheap Foxcon twisted pair cables that were coming unraveled. However, IOMeter still refused to go beyond a queue length of 2048 perhaps because of high CPU usage trying to manage two 3950U2 adapters. The cable problem has been addressed by use of new 7-drive Amphenol Spectra-Strip 320MBs cables.

One last factor affecting results is the PCI latency. I found that maximum bandwidth was achieved in streaming reads with PCI latency set at 128 but streaming writes were unable to complete and the 2CPU workstation benchmark was unable to complete a queue length greater than 2048. Lowering the PCI latency to 32 allowed all tests to complete sucessfully albeit with slightly lower maximum throughput.

Memorial Day Weekend Updates: The Quest for Ludicrous Speed
by William "Mr Bill" Shannon - 13:15 pm mst, May 26, 2003, Monday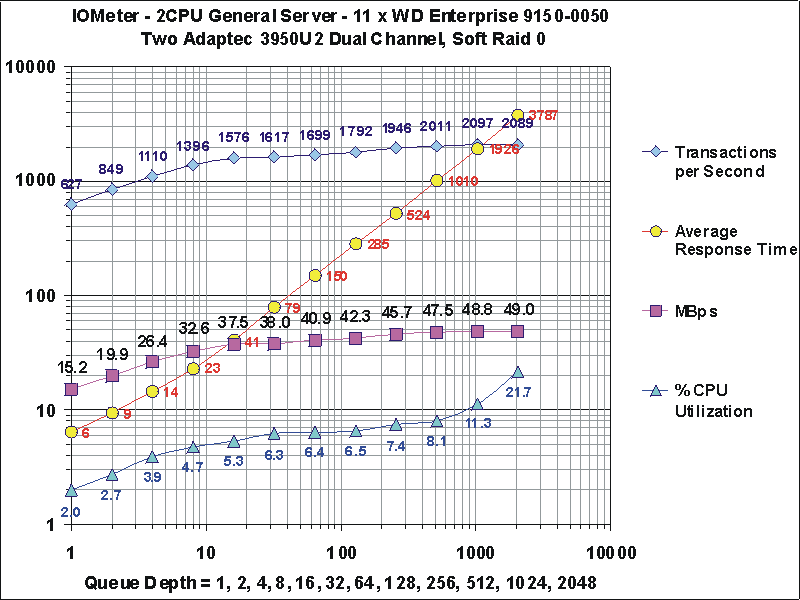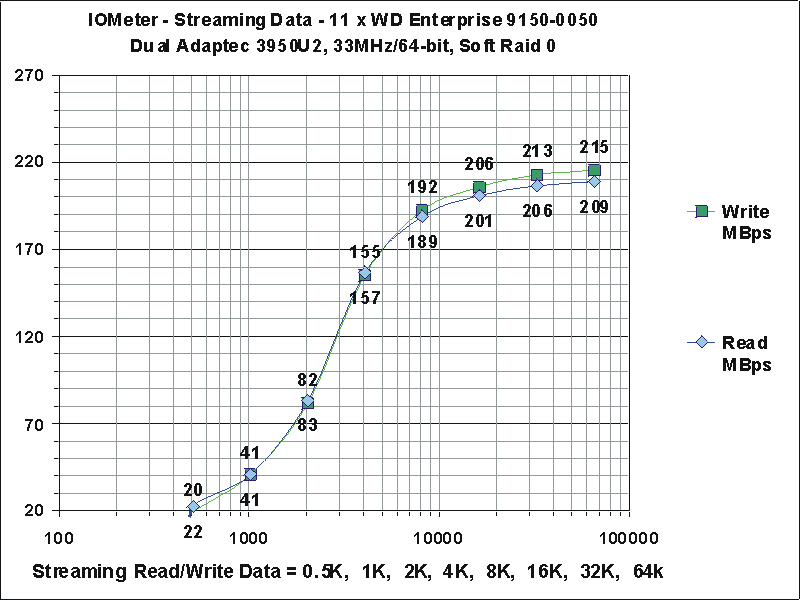 Here are the new IOMeter results for my new array of 12 Western Digital model 9150-0050 10,000 rpm SCSI U160 drives. I use the 2CPU General Server access patterns in IOMeter and cycle the queue length from 1 to 10000 in powers of two. Each of the two Adaptec 39850U2 cards has two 80Mb/sec LVD channels. To get the most out of this setup, the drives must be distributed between the four resulting channels. Four workers represent four software raid 0 arrays, one to each channel, respectively comprising 3, 3, 3, and 2 drives.

IOMeter was unable to continue past a queue length of 2048 and CPU usage increased dramatically before the program halted. Last time this was caused by a bad cable. Two channels have the cheap twisted wrap ones (750019-001 Foxconn k.0210). These come apart and the wires clump together where the cable needs to be rotated while routing them in the case. So, I need to replace them with better quality cables.

IOMeter Streaming Results:

Previously, I did the 2CPU General file server benchmarks with 7 drives and the system peaked at about 32Mb/sec. Througput has increased to 49Mb/sec with a 2-4 second average response time, for 1000-2000 simultaneous users!!!

The IOMeter streaming Read/Write results have also increased but not to as great an extent. Remember, the maximum 33MHz/64-bit bus bandwidth is only 266Mb/sec. So, we are hitting a performance wall. A disadvantage of Software Raid 0 is that the smaller data sizes take more processing. CPU usage ranges from 100% at 0.5K to about 18% at 64K. This introduces a slight lag when opening many small files (e.g. refreshing the windows file manager) then it comes on like gangbusters. Reminds me of the turbo lag on a car.

At the low end, individual channels are as fast as the entire set of raid volumes because of the CPU usage limitation. This is a good reason to go with hardware raid 0 or raid 10.



Memorial Day Weekend Updates: The Wind in My Face
by William "Mr Bill" Shannon - 10:40 am mst, May 24, 2003, Saturday
I've now got a total of 12 WD 9150-0050 10,000 rpm SCSI U160 drives installed in Merlin. With careful fan placement and cable routing, I am maintaining a case temperature of 31C at 27C ambient. Six of the drives (controller #1) are reporting temperatures ranging from 30 to 32C. For some reason Motherboard Monitor is not reporting temperatures from drives on controller #2. CPU's 0 and 1 are respectively reporting 36 and 38C +/- 2C at constant 100% Folding@Home CPU load. Total case fan count is up to 12 not counting the two in the Antec True 550 PSU.
Intake: 3 x 80mm x 48cfm x 37dba variable speed YS-Tech + 1 80mm x 35cfm x 33dba Sunon on front intake
Exhaust: 2 x 80mm 48cfm x 37dba variable speed YS-Tech + 1 x 80mm x 44cfm x 33dba Sunon + 1 x 80mm 35cfm x 33dba Sunon
CPU HSF's: 2 x 80mm x 48cfm x 37dba variable speed YS-Tech + 2 x 60mm x 25cfm x 23dba Sunon Mag Lev fans
The air rush is about as loud as a box fan but the whine of the drives accentuates the annoyance factor.

Weekend Project
by William "Mr Bill" Shannon - 13:00 pm mst, May 03, 2003, Saturday
I am starting a CPU cooling project today. I will have more later when I get it finished. I ordered 4 more WD 9150-0050 drives in addition to the 8 already installed in Merlin. I expect I will add another 60-80mb/sec to my total IOmeter throughput. Hmmm, I should be bus limited at that point. More later...

AMD's Opteron has arrived!
by William "Mr Bill" Shannon - 8:40 am mst, April 24, 2003, Thursday
Tuesday, April 22 the NDA's expired for the rollout of AMD's new Opteron processor. Surprisingly there were not that many good reviews posted. I had the day off. So, I spent it reading Opteron reviews. Here is a recommended reading list in order of preference:
Ace's Hardware Opteron: Pushing x86 to the Limit
AnandTECH AMD Opteron Coverage - Part 1: Intro to Opteron/K8 Architecture
AnandTECH AMD Opteron Coverage - Part 2: Enterprise Performance
2CPU Hooz is expecting to have a review up any time now...

Dual Fans on your CPU
by William "Mr Bill" Shannon - 10:30 pm mst, March 20, 2003, Thursday
Sometimes you buy a new part just because they are cool. I just bought a 40x40mm fan and a couple of new 60x60mm fans with the idea of somehow souping up my duallie system. What makes these cool is that the fan bearings are Sunon's new magnetic levitation system (MLS). This was all initiated because the chipset fan on my MSI K7D Master-L duallie started making noise. So I decided to replace it with the 40x40mm MLS fans. The MLS fan bearings support the spinning fan with a magnetic field. So they are quieter and bearing wear is decreased so they are supposed to last much longer. While I had the Akasa 60-80mm adapters removed to get at my motherboard chipset fan, I had an idea. Server builders put in dual power supplies for redundancy. What if I had two heat sink fans per CPU? I noticed that the Akasa adapter has plenty of room for the little 60x60mm fans inside and beneath the 80x80mm fans that will be mounted on top. In addition there would be an effective plenum between the fans. So, I decided to embark on redundant CPU heat sink fans for Merlin!



Remember the Akasa adapter I installed back in September 2002? I had partially removed my old heat sink fans and installed the Akasa adapters. You can see the Akasa adapter installed on CPU2 on the left but a Sunon 60x60mm ball bearing fan is still on CPU1 on the right. The only mod I did was to put a skirt of scotch tape around the edges to make a better air seal because as you can see from the photo there is a gap otherwise. The Taisol heatsink is 60x70mm in horizontal dimension. I left the north/south flaps open (and thus the gap) as recommended in the kit instructions because then it covers the longer (70mm) rectangular length (N-S in the photo) of the TaiSol heatsink better. Its a perfect fit. The Taisol heatsink has a very stout three slot clip on each side so the extra weight should not be too much of a factor.




I have already installed the 40x40mm MLS fan on the chipset heatsink. But the view is blocked by that bundle of SCSI cables to the right of the CPU0 heatsink. I installed the 60x60mm MLS fan inside the Akasa adapter and was gratified to see it fits very nicely. A plenum gap of about 1 cm will exist between the fans. Notice there is also a free path around the MLS fan that will let air flow around the MLS fan to the 80x80mm fan to be mounted above this one. The closeup shows the nice fit. You can just see the 40x40 MLS chipset fan to the right.




I installed the YS-Tech 80x80mm variable speed fan mounted above the Sunon 60x60 MLS fan inside. You can just see a glimpse of the underlying 60x60mm MLS fan. Do the other fan and add fan protection grills and there you have it, redundant CPU fans in an attractive package. You will want to know whether the cooling characteristics of the system changed after this modification. I think the air flow has increased slightly or has become more directional. I fold at home 24/7. There was not a significant decrease in CPU temperature but neither was their an increase. I have not tried this setup while overclocking. Maybe I'll do that and give an update With two HSF's per CPU I know that my CPU's are that much safer from thermal problems if a fan should fail. Either fan system alone seems to be adaquate to cool the CPU.

I have 12 SCSI drives in this system but it still runs pretty cool. It ought to with three 80x80mm intake fans and five exhaust fans (four 80x80mm and one 120x120mm), not to mention the PSU. The hum of the drives and the rush of the air are slightly distracting when watching DVD movies. Here are some typical temperatures.

Ambient=23C
Chassis=29C
Drives=31C
CPU1=34C
CPU2=40C

Its a New Year
by William "Mr Bill" Shannon - 12:30 am mst, January 1, 2003, Wednesday
Happy new year!

The Quest for Ludicrous Speed
by William "Mr Bill" Shannon - 12:45 am mst, December 18, 2002, Wednesday
In my quest for ludicrous storage IO speed, I've gotten my hands on 4 additional SCSI LVD cables. I now have two stripsets (T and U) of 4 WD Enterprise 10,000 Ultra3 drives each (two on each channel per stripset) on two dual channel 3950U2 controllers. This gives the highest throughput my system can sustain. The four IBM UltraStar 18ES system drives are on an older 2940UW adapter as are the narrow devices. I was a little unsure whether the system would operate the 3950U2 controllers without the controller bios installed since the bios had to be that of the 2940UW controller in order to boot. However, the setup works as envisioned.

Having five of these 5 device SCSI LVD cables in the same case is really messy. Adding in the ~40Mb/sec from the system swap drive which is on a 2940UW card drags all scores down I suppose because that controller adds too much overhead to the PCI bus. I defined basic stripsets in WinNT4 and migrated them to Win2Kpro where these tests were run. I made these measurements using Intel's IOMeter ver. 1998.10.08. I had one manager with two workers. I assigned each worker one 2-channel x 2-drive software raid 0 stripset. These were physically on the same 3950U2B adapter. I assigned 255 outstanding IO's per target. I ran the 64K streaming read and write access specification. IOMeter was set to increment targets in parallel adding step targets to all managers at a time.

Here are the final results:

64K streaming read:
Drive T = 98.62Mb/s
Drive U = 98.62Mb/s
Total simultaneous throughput:197.21Mb/s

64K streaming write:
Drive T = 97.04Mb/s
Drive U = 94.47Mb/s
Total simultaneous throughput:191.51Mb/s

Combining all four 80Mb/sec channels into a single software raid 0 array gives very similar results.
64K streaming read: 206.27Mb/s
64K streaming write: 193.35Mb/s

This seems to be the chipset maximum. I don't think anyone will exceed this 64K streaming write on the 64-bit/33MHz PCI bus. It would be interesting to try this again with the Adaptec 39320R dual internal channel Ultra 320 adapter. The 39320R is a PCI-X 133 adapter and would run at 66MHz in an MPX chipset 64-bit PCI slot.

Next up are IOMeter file server results. I used one manager with two workers. One worker was drive T the other was drive U. I set them both up in the first tab to allow 255 outstanding IO's/target. I set the access specifications tab to File Server. For Test Setup I used a 15 sec ramp up time and a run time of 15 sec. Under cycling options I chose Cycle # Outstanding I/Os run outstanding I/Os on all disks at a time. I set number of outstanding I/Os to exponential stepping, power of 2, from 1 to 10000.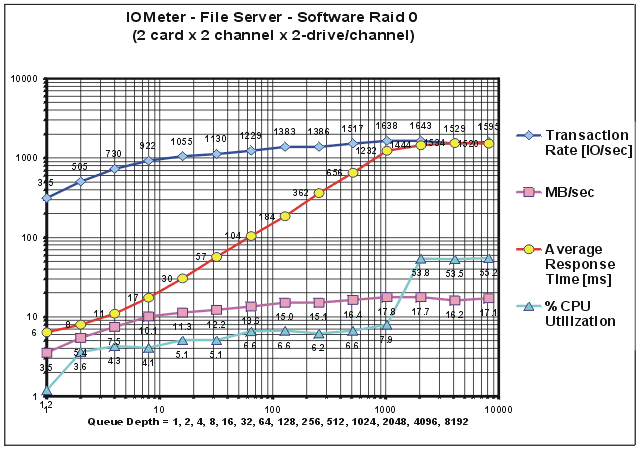 See the step above 1024 Queue Depth? Total Error Count rises from zero to several thousand. Both large and small reads and writes get errors. CPU usage goes up dramatically. I tried PCI latencies of 128, 64, and 32. I thought it might be my 2,2,2 DDR and changed it back to 3,2.5,3 timing. I tried overclocking and stock timing. I tried varying # of Outstanding I/O's per target from 1 to 32 to 128 to 255. I tried all of the above separately and in combinations. I conjecture that this is the upper limit of 64-bit/33MHz bandwidth. Not bad really considering that the theoretical 64-bit/33MHz bandwidth is 266Mb/sec. The file server tests are maxing out at 2318 interupts/sec and 240 packets/second. The maximum response time also jumps by a factor of 5 to >11000 ms after Queue Depth 1024 is reached

It is interesting to note that the read 64K streaming reads have a sustained IO Transaction rate of about 3155 IO/sec at 197Mb/sec, Avg Response time 161 ms, maximum response time of 194 ms, 3507 interrupts/second, and 240 packets/second.

64K streaming writes have a sustained IO Transaction rate of about 3064 IO/sec at 191Mb/sec, Avg Response time 166 ms, maximum response time 2497 ms, 2578 interrupts/second, and 242 packets/second.

The similarity of the packets/second scores suggests that about 240 packets/second is the upper limit for this hardware configuration.

New Drives
by William "Mr Bill" Shannon - 12:20 pm mst, November 30, 2002, Saturday
I now have 12 SCSI drives in Merlin. There are four IBM Ultrastar 18ES DNES 3309170, 9.1Gb, 7200 rpm, 2Mb cache, 68-pin, ultra2 wide SCSI LVD/SE hard drives. These run very cool and quiet and rate about 18Mb/sec throughput. They make a nice fast system if you stripe set a partition across three of them together for the system swap files (drive V) and other things needing quicker access. I see about 45-54 Mb/sec for the stripe set volume. I have added eight Western Digital Enterprise WDE9150-0050, 9.1Gb, 10,000rpm, 2Mb cache, 68-pin, Ultra3 160 SCSI LVD/SE hard drives. These run cool and quiet and rate about 25Mb/sec throughput. I have two software raid0 stripe sets configured as follows:
Four drives are software raided together with two drive on each 80Mb/s channel of a dedicated dual channel 3950U2 controller. Identical logical drives T and U are The system swap files and other things needing quicker access are on these stripsets. IOMeter readings below (PCI latency 128) for the stripe set volumes. Drive U has identical performance to T when run alone but they necessarily step on eachother when run together.
Drive T read = 98.58Mb/s
Drive T write = 94.60Mb/s

Drives T+U read = 136.60Mb/s
Drives T+U write = 135.52Mb/s

Drives T+U+V read = 184.68Mb/s
Drives T+U+V write = 172.72Mb/s

Last Call:
by William "Mr Bill" Shannon - 12:20 am mst, October 22, 2002, Tuesday
MS over at Lost Circuits presents his review of the Iwill MPX2 Distributed Power in Dual Mode. His reviews are always good. I hear this is a good overclockers board.

Opteron Swings the Market
by William "Mr Bill" Shannon - 11:50 pm mst, October 21, 2002, Monday
Holy Opteron! Batman. AMD's share price has jumped another 26+% today. Cray and Sandia National Labs have announced a 90 million dollar project titled "Red Storm" to build an AMD Opteron based supercomputer. See links above and below for details.
AMD moderated thread Silicon Investor
The Inquirer Cray to use Opteron to build world's most powerful super-computer
InfoWorld Cray to use Opteron in supercomputer

Other fun in the news:
Mario Rodriques writes for The Inquirer Is AMD now ready to impact the enterprise space?
AnandTech investigates stunning performance (previously noted by peer reviews) of NVIDIA's nForce2 Part II:.

Opteron Surfaces at Microprocessor Forum
by William "Mr Bill" Shannon - 10:45 pm mst, October 17, 2002, Thursday
The 15th annual Microprocessor Forum 2002 met this week October 14 - 17, 2002 at the Fairmont Hotel San Jose, California. I first got wind of some interesting results yesterday while browsing the moderated AMD thread at Silicon Investor. Last night, I E-mailed some of the links to The Tech Report, Ace's Hardware (which bounced), Lost Circuits, and 2CPU. The Tech Report started a thread on their front page.here. So, I am posting a few of the links I sent out to these fellows. I first got a link to the discussion thread over at Real World Technologies which has since been formalized as a news post Real World Technologies: MPF 2002 Coverage - AMD Opteron. The same fellow at SI also posted a link to the Microprocessor Forum 2002 presentation here as a pdf file. Finally ZDNet.De TechExpert has a summary with some very nice graphs of the SPEC marks here on page 3. Look at the graphs and see how the Opteron scales compared to the P4. Check out the picture of a 4-way Opteron system on page 2 here.

No wonder then that AMD's stock jumped over 24% today.

AMD's Share Price Drops
by William "Mr Bill" Shannon - 10:30 am mst, October 3, 2002, Thursday
AMD's share price dropped 27% today to below $4 a share as shown here at Silicon Investors. I like to read the comments by the gents at the Silicon Investor moderated AMD thread. Its really quite interesting.

AMD's XP2800+ nForce2 reviews:
by William "Mr Bill" Shannon - 12:00 pm mst, October 1, 2002, Tuesday
The new AMD XP2700+ and XP2800+ are out with 333MHz (double pumped 166MHz) front side bus as well as a spiffy nForce2 testing platform. The combination is quite potent...

Johan De Gelas of Ace's Hardware has published his revew of Athlon XP 2800+: 333 MHz FSB and nForce 2. This is a super interesting review. Johan shows that prefetch latancy may be responsible for the strong showing of the P4 against the Athlon. The New nForce2 chipset makes the Athlon suddenly perform on par and beyond the P4. Huzzah! Remember its most often been the case that Intel made better chipsets than anyone else. Also, lets not forget that the AMD XP2700+ and XP2800+ now sport a 333HMz (double pumped 166MHz) front side bus. Maybe Nvidia will come out with a duallie chipset, come on, please? P.S. check out the discussion on the Ace's Hardware bulletin board.

The Tech Report "Leveraging proactive synergies for a win-win result. Cough." I've always liked their reviews. The press kit nForce2 board is very spiffy. Look at the improvement in the memory benchmarks. The XP2800+ is hanging out with the P4 DDR systems! The nForce2/XP2800+ beats out all DDR333 comers in the Linpack test at matrix sizes above 1.2Mb! The XP2800+ crushes the P4 in Specviewperf 7.0. Finally, the nForce2/DDR333 combo cracks the Spinx speech recognition-time/realtime barrier and drops from 1.1 to below 0.8

Lost Circuits did an eclectic review: AMD Athlon XP2800+ on the nForce2 chipset "The Truce of the AntiMatter" eschewing "lapidary parlance".

Linuxhardware The XP2700+ is a winner on the linux platform.

AMD Zone Go here for a long list of XP2700+, XP2800+, and nForce2 reviews. That said AMDZone has a nice review but puts the XP2800+ against a 'slower' 2.53GHz P4 which gets pounded as one might expect. Triumph of the PR rating system or just 'lapidary parlance'?

AMD dumps Andersen as test auditor One wag jokes "Is there going to be a restatement of AMD's benchmarks?,"

I was disappointed with the AnandTech AMD Athlon XP 2800+ review. AnandTech only used a single stick of ram in the nForce/XP2800+ and put it up against the a two channel RDRAM P4 system with predictable results. AnandTech then splits out a separate NVIDIA's nForce2 Performance Review pitting the VIA and nForce2 DDR333/400 motherboards against eachother using the AMD 2800+. Doh! AnandTech shows the extra bandwidth of the nForce2 board by adding a second stick of DDR. Then for all subsequent comparisons they bench with only the single stick of DDR. A carefully crafted way to demonstrate the possibility of superior performance without actually doing it to the embarassment of the 2.8GHz P4.

Well those were the best. I leave you to the rest.

AMD's XP2800+ reviews:
by William "Mr Bill" Shannon - 23:15 pm mst, September 30, 2002, Monday
Johan De Gelas of Ace's Hardware has published his revew of Athlon XP 2800+: 333 MHz FSB and nForce 2 . Check it out. I'll add others to this list as I find them.

Well it was accidentally posted up and then was quickly taken off line. Word is wait till 8:00am. Comet sighted. Me for sleep now.

A tale of (2) Dual Chipsets
by William "Mr Bill" Shannon - 20:00 pm mst, September 27, 2002, Friday
Here are a couple of interesting reviews to be read together. The first is a review comparing the performance of a MPX motherboard + dual AMD MP 2200+(1.8GHz) + 1Gb PC2100 Registered DDR versus an 860 chipset motherboard + Dual Intel 2.4GHz Xenons + 1Gb RDRAM here at linuxhardware. The second review, also at linuxhardware compares the New Athlon XP 2400+ Thoroughbred on a VIA APollo KT233 chipset motherboard versus the Intel 2.4GHz (400MHz FSB) and 2.8GHz (533MHz FSB) on an 845E chipset motherboard located here. Its very interesting to see that the single CPU race is won by AMD but the dual CPU race is won by Intel. Given that the CPU's are similar across the tests its the motherboards that are probably most responsible for this apparent upset each way. The MPX chipset needs a new generation of development and thats the news.

TaiSol + Akasa + YS-Tech HSF Upgrade
by William "Mr Bill" Shannon - 23:48 pm mst, September 19, 2002, Thursday
I was browsing over at Hoozyermamas web page and saw his picture of Alpha PAL6035's fitted with 60-80mm adapters and Sunon whisper fans. So I decided to see if I could do something almost as sweet with the dual TaiSol CGK760092 CPU HSF's on Merlin. These were sporting two Sunon 60mm, 5800 rpm, 24 CFM, 34 dba fans. I cruised over to Nexfan and found this Akasa 60-80mm adapter kit deal which looked like it would fit a TaiSol pretty nicely. Its especially nice because for $7 it comes with all necessary screws and an 80mm grill. Here is a picture of the Akasa kit as I received it.



I was not sure how much airflow I would need and I wanted overall cost to be fairly inexpensive. So, I decided on the YS-tech 80mm adjustable fan (max 3300 rpm, 48.5 CFM, 37 dba) which comes with an adjustable pot for rpm/CFM/dba control for $8. It was two dollars cheaper without the pot. But I figured if it was too loud then I could adjust the rpms downward a bit till it was quiet enough.



I removed the Sunon 60mm fans from my heatsinks and installed the Akasa adapters. You can see the Akasa adapter installed on CPU2 on the left but the Sunon fan is still on CPU1 on the right. The only mod I did was to put a skirt of scotch tape around the edges to make a better air seal because as you can see from the photo there is a gap otherwise. I left the north/south flaps open (and thus the gap) as recommended in the kit instructions because then it covers the longer (>60mm) rectangular length (N-S in the photo) of the TaiSol heatsink better. Its a perfect fit.



I installed the fans and grills with the long machine screws provided in the Akasa adapator kit. The grill/fan/adapter assembly wants to twist a bit when turning the screwdriver but I held the whole assembly firmly down while tightening the mounting screws. The screws are the perfect length for a typical 80x80x25mm fan. I set the fans up to pull away from the heatsink/CPU as is typical done with Alpha HSF. My rational is to pull heat away from the motherboard, AGP adapter, and memory and not push hot air onto those devices. The two rear and single side exhaust fans are well situated to pull this heated air from the case. Overall, I see slightly cooler (3-4C) CPU temperatures and equal or less noise than I did with the Sunon 60mm fans. It was fun to do and now I have up to twice the airflow of the original setup.

It is evident from the photo that there is adaquate room, on the MSI K7D Master-L motherboard, to mount the 80mm YS-Tech fans on the TaiSol CGK760092 heatsinks, using the Akasa 60-80mm fan adapters. But there would not be room for a larger size such as 92mm. I should point out that my dual 1.2GHz Palaminos run Folding@Home 24/7 which keeps them warm. So lets try some settings. The YS-Tech fans HSF cannot be heard above the case fans with the fan pots turned all the way down. I see the following temperatures with the pots turned all the way down:

Ambient=25C
Chassis=29-30C
CPU1=43C
CPU2=46-49C

With the pots turned all the way up they are a bit louder than my case fans. However, should mention I have 3x80mm Sunon inlet fans, and 3x80mm and 1x92mm Sunon exhaust fans. They are all supposed to make noise in the 34+ dba range. So, I get these temperatures with the YS-Tech pots turned all the way up:

Ambient=25C
Chassis=28C
CPU1=33-34C
CPU2=39-43C

And on a cooler evening, same settings...


Ambient=20C
Chassis=25C
CPU1=29-30C
CPU2=34-37C


I decided the overall fan noise (well yeah, 9 fans) was pretty noticable and decide to see how quiet I could make the system since after all that is the point if one is not overclocking. I hooked the front intake fans so that the Antec True430 PSU controlled the speed. I hooled up the rear and side ehaust case fans to a full 12V. That made the CPU fans, still at full speed, quite audible. So, I turned their pots down to a speed that just matched the noise of the rest of the fans. Now the harddrives and rear fans are the loudest sound. The fans are so quiet, I'm actually a bit surprised that the chassis temperature did not go up but its been stable for over 8 hours. Final result:

Ambient=25C
Chassis=29C
CPU1=33-34C
CPU2=40-43C

And on a cooler evening, same settings...

Ambient=20C
Chassis=25C
CPU1=30-31C
CPU2=36-40C



The Future of Ideas
by William "Mr Bill" Shannon - 15:30 pm mst, September 08, 2002, Sunday
I'm currently reading "The Future of Ideas" by Lawrence Lessig. Its scary what the movie-music-radio-cable industries are doing to wreck freedom and innovation in America today. These entities are lobbying to control ownership of content to such an extent that they threaten our basic freedom to create, own, and distribute ideas. All this to protect their business model at the expense of our personal freedom and future technological development of our country. Here are some links about the DMCA at the EFF "Intellectual Property - Digital Millennium Copyright Act (DMCA)" Archive. See what 'unintended consequences' have already resulted afterThree Years under the DMCA. Write your senator.

The Honorable Ernest F. Hollings
Chairman
Senate Committee on Commerce, Science, and Transportation
SR-254 Russell Senate Office Building
Washington, D.C. 20510
senator@hollings.senate.gov

New Ghostwheel member
by William "Mr Bill" Shannon - 10:15 am mst, August 21, 2002, Wednesday
On Monday I finished assembling a Pentium 133MHz duallie on the Gigabyte 586DX platform. I've named it HenWen after the talking pig in the adaptation of the Welsh Mabinogian by Lloyd Alexander titled Taran Wanderer. You can check it out in Ghostwheel. I was surprised at how responsive a system it turned out to be for having older CPU's. With only 64Mb of 72pin parity simms it cannot do Folding@Home without crushing the virtual memory so I have set it up for SETI.

Its' Friday Night!
by William "Mr Bill" Shannon - 12:40 am mst, August 02, 2002, Saturday
The friday night topic over at The Tech-Report got slashdotted when /. posted Tech-Report's USB KVM switch comparison. Reading that led me to Tech-Report's earlier four-port KVM switch comparison. Now I have been wanting a 4-port KVM switch and was sort of leaning toward the D-Link offering. The article and the reader comments convinced me to buy the IOGear MiniView SE 4-port model GCS84A on Thursday. It arrived Friday and it works as advertised and as reviewed. Its powered off the PS/2 ports. The 4 sets of included cables work great and I see no video ghosting at 1600x1200x24-bit@75Hz. Connections can be hot plugged without any problem and PC's can boot without being selected active. The weight of it is perfect so it sits level on a table and I like the yellow 'active' and green 'selected' LED's. It sure beats the manual 2-port KVM switch I've been using till now.

Meanwhile Dean Kent over at realworldtech has decided to change to a membership business model. I suppose how well that works depends on how much bandwidth is included in the calculations. RealWorldTech does not post a lot of pictures. Therfore, I suppose it is more likely to be viable at a lower subscriber cost.

Ghostwheel Updated!!!
by William "Mr Bill" Shannon - 01:10 am mst, June 23, 2002, Tuesday
I have just reorganized and re-cast the 6 PC's currently in Ghostwheel into a new format making it easy to see all the members and their components. Check it out at the Ghostwheel link. This took a while. Hand coding HTML is a drag.

TR Gets a Face Lift?
by William "Mr Bill" Shannon - 11:30 am mst, June 18, 2002, Tuesday
Scott (Damage) Wasson has changed his page layout over at Tech-Report. Here an example of the Tech-Report Archive from June 5, 2002. After thinking about why I liked the old TR page layout I've decided to adopt some aspects of it myself.

Thursday, April 25, 2002 23:00 pm mst
AMD announced yesterday that the code-named SledgeHammer CPU will be officially designated the Opteron. Meanwhile Microsoft also announced there would be AMD Opteron support for 64 bit windows. Whew! I guess we were all pretty worried we would be left with nothing but 64 bit Linux, eh? Good thing Microsoft stepped in for the save. So, today "...AMD also plans to demonstrate its AMD Opteron dual processor-based server running a developmental 64-bit version of Windows at its annual shareholders' meeting in New York City on Thursday, April 25..." There are a bunch of sites doing quickie reviews of the AMD Opteron specs. The one at Van's Hardware is as good as any and better than some. Check it out here: AMD Announces Opteron. Kudos to AMD for coordinating with software and hardware vendors to orchestrate a rollout that will inspire market confidence and the many potential buyers of AMD CPU's.

Wednesday, February 06, 2002 13:05 pm mst
I've posted more Dual Athlon MPX review links. The dual Athlon boards are generally impressive and it looks like the MPX is a slightly faster chipset than the MP. I notice that the benchmarks that measure memory bandwidth or have a strong weighting toward memory bandwidth seem to score slightly lower in SMP mode. This is true for both the AMD and the Dual Pentium reviews I've seen recently. For example, Game PC compared the single and dual athlon scores against single and dual pentium scores in their Asus A7M266-D review. Quake3 for example is very sensitive to bandwidth as both the Athlon and Pentium score lower in SMP mode here. You may say, well its different platforms between the dual and SMP scores. It looks to me like SMP enabled Quake3 spends more time pushing bandwidth than calculating content. On an under powered system an extra CPU might increase the Quake3 score but as processor power increases, bandwidth seems to be the bottleneck. Of course we indirectly already acknowledge this by comparing the lowest resolution which requires the least calculation. Its too bad Quake3 can't generate pseudo frames and throw them away rather than having to push them through a video card.

I think I liked the t-break review of the K7D Master the best. Its interesting what happens in SisSofts test suite. Enabling SMP doubles the FPU Whetstone scores, wheras the CPU Dhrystone scores decrease here. But the CLIbench Dhrystone and Whetstone scores are both doubled by enabling SMP as shown here. So, is the SisSoft Dhrystone score somehow skewed to be bandwidth dependent? As originally conceived, it was an integer test that pretty much stayed in the CPU cache. to quote SisSoft's FAQ on the Dhrystone test on this: "Due to various changes, the result is not directly comparable with other Dhrystone benchmarks" interesting eh? t-break also wonders why the "multitasking" Content Creation scores showed no improvement.

Dean Kent over at Real World Technologies examines this subject in his article A Look at SYSmark 2001 and you may want to also read the Winstone and SYSmark 2001 Followup.

Tuesday, February 05, 2002 10:45 am mst
I've trimmed the page length and posted some review links over to the right. Note in particular the Dual Athlon MP and MPX motherboard reviews.

Sunday, January 27, 2002 12:55 pm mst
Here's the original source for that article on Yamhill from the San Jose Mercury News Intel has secret weapon against AMD chips . I can see the headlines now: Itanic loosing steam, Clawhammer forces Intel to dig up Yamhill for sweet x86-64 offering.

Sunday, January 27, 2002 13:15 pm mst
AnandTech has posted a news article: Intel may design Hammer-like chip; codenamed Yamhill. What an odd name to choose for a processor. But, looking a little further and it becomes unsurprising Yamhill is a county in Oregon. To quote the Yamhill FAQ, "Lying on the west side of the lower middle part of the Willamette Valley, Yamhill County is bounded by Washington, Clackamas, Polk, Marion and Tillamook Counties. The Willamette River is the eastern boundary."

Saturday, January 26, 2002 15:00 pm mst
AndandTech has done a really nice review raking 15 video cards using a new benchmark based on the Unreal Engine. He runs all 15 video cards at 7 resolutions which really separates the men from the boys. Looks like anything less than an NVIDIA GF3 is a little pale and wan, GF2 MX's look pathetic. I bet my Matrox G400 MAX is even worse. Check out the review here.

The MSI KD7 Master is based on the AMD Dual Athlon MPX chipset. Here is HardOCP's MSI K7D Mainboard Review.

Here is an article over at Real World Technologies The Pentium 4 2.0A (Northwood) - Should You Upgrade?.

Tuesday, January 22, 2002 01:40 am mst
Toms Hardware has managed to overclock the Pentium 4 Northwood to 3 GHz. Read the review here. I plotted up some of the scores from Tom's Hardware overclocked 3000MHz Northwood versus the other CPU's. I choose the 2000, 2200, and 3000 Northwood; the 1600, 1800, and 2000 P4 Wilaimette; and the 1400, 1533, and 1667 MHz Athlon XP+. Its far more interesting to plot X-Y plots of CPU clock versus test score to see how they scale than it is just to see what scores highest. One thing thats apparently going on is that there is a large difference in bandwidth between the 850/RDRAM and 845D/DDR chipsets. Tom put the overclocked chip on the 845D motherboard and the rest of the P4 tests are on an 850/RDRAM setup. It also really shows that some tests such as the SisSoft integer MMX and FP SSE/SSE2/3DNow! tests are not strictly CPU tests but heavily biased toward bandwidth. You would think that the memory test is sufficient for bandwidth. In linear algebraic terms there is considerable linear dependence between the memory bandwidth and the CPU tests.
From my graphs (not shown) I picked what MHz Athlon would equal or beat the 3000 MHz Northwood on the 845D/DDR chipset:
Quake3 Demo001 needs a 2500 MHz XP+
3DMark 2000 needs a 1900 MHz XP+
3DMark 2001 needs a 2100 MHz XP+
MPEG-1 Lame needs a 2100 MHz XP+
MPEG-4 Divex needs a 2100 MHz XP+
SisSoft Dhrystone needs a 2700 MHz XP+
SisSoft Whetstone needs a 2200 MHz XP+
SisSoft Integer MMX is very bandwidth hungry and needs a 3000+ MHz XP+
SisSoft Floating Point SSE, SSE2, and 3DNow! is very bandwidth hungry and needs a 3000+ MHz XP+
Suse Linux Kernel compile needs a 2000 MHz XP+
Cinema 3D Rendering needs a 2200 MHz XP+
Cinema 3D Shading needs a 2300 MHz XP+
So, I can see now why AMD is suggesting that the Athlon has the headroom to compete through the first 3 quarters of this year. If Intel stays below 3 GHz then It looks to me like AMD can easily beat most of the bench marks if they can reach 2.3 GHz over the same time span. Hmmm, for both Intel and AMD thats less than a 50% increase in CPU clocks.

Friday, January 18, 2002 23:00 pm mst
Some of my friends are using VNC to access remote computers in the same building over "only" a 10 base T connection. This rankles in a building on the gigabyte backbone and where other offices have 100 base T connections, So I found this little review and now my friends may have something to help make their connections run a bit faster. I found a review of an enhanced version of VNC called TightVNC. Here's a teaser; TightVNC "...is optimized to work over slow network connections such as low-speed modem links." Here is the TightVNC website. The review is about setting it up on a Linux PC for remote access from any location: TightVNC: Remote Power. Just as soon as Abit finishes fixing my Abit KA7-100 motherboard I am going to try this out.

Sunday, January 13, 2002 00:15 am mst
Well last monday 07-Jan-02 both Intel and AMD released competing new CPU grades. Intel released the Norwood version of the pentium IV in both 2 and 2.2 GHz. AMD released the Athlon XP 2000+ as their response for an equivalent performance CPU. First off, you can see both a list of websites that reviewed the CPU's and how viewers rated those sites here at JC's ChipTech. My favorite succinct review was put up by The Tech Report. It has a nice layout, good benchmarks (including Linpack) and compares the XP 2000+ on the Via266A/DDR chip/memory set versus the Northwood on the 845/DDR and 850/RDRAM chip/memory sets. My next stop was over at Ace's Hardware. Their review was excellent and there are lots of interesting technical details to explain performance differences. Next I visited AnandTECH. They has tested both vendor's CPU's at a variety of speed grades which makes relative ranking comparisons possible. I also liked the two part series over at Van's Hardware. I like their writing style and they have a nice way to compare memory latency and throughput with mixed instructions. OK, so I like XY graphs! I also liked the review at Lost Circuits because he has an eye for detail and is very tech savy.

Meanwhile, I am hoping to build a dual system soon. Check out the Lost Circuits review of the Tyan S2460 "Tiger". There is also a good review over at AnandTech: Tyan's Tiger MP: Affordable Multiprocessing. I think this may be my next board. I'm not sure its worth waiting to see if the Tiger MPX version is faster and better. On the one hand there is the 66MHz 64bit PCI slots in the MPX boards. But my Adaptec 3059U2 SCSI controller although 64bit PCI, only runs at 33MHz anyway. There is a nice review of the MPX chipset over at AnandTech...AMD's 760MPX Chipset - Multiprocessor for the Masses. The Asus offering is available over at TCComputers and it looks pretty nice. There are even heatsink holes but I thought Tyan, having a headstart, might make a better showing on their Tiger MPX. I'll post a link when I find a review. One thing I think is important is sturdy heatsink mounts. The TYAN Tiger MP board has holes drilled for heatsink mounts while the Tiger MPX pics I've seen do not show any heatsink mounting holes. I would have to use a heatsink like the Swiftech MCXC370 reviewed here at Overclockers which has a copper baseplate but does not need the 4 mounting screws. On the other hand I want the extra security of securely mounted heatsinks. I'd like to use either a couple SwiftTech MC462A (copper baseplate) CPU heatsinks, reviewed here along with the Swiftech MCX370C at Lost Circuits and here at AMDmb or a couple Alpha PAL8045T (copper cored) CPU heatsinks which are reviewed over at AMDmb in their Copper Cooler Comparison II or even better, here at Overclockers in their Heatsink Roundup. Both brands mount using four holes in the motherboard around the ZIF socket. The Alpha PAL8045T is cheaper. They are unlikely to fall off or strain the ZIF socket if fixed with spring mounts through the board.

Monday, November 17, 2001 16:00 pm mst
Well, I've moved. Hanging out with the relatives right now. I just got AT&T broadband via cable modem. The installation was trivial. The fellow pulled the cable into the room, attached the modem, powered it up, and offered me the ethernet end. I configured my D-Link DI-704 as dynamic IP address and used the host name he provided me. Now I'm getting transfer rates of 1400kbps down/128kbps up. At $10 for installation and $20/month for the first three months and no contract, this is a great deal. After three months the rate goes to $35/month if you own an approved cable modem or $45/month if you use AT&T's. There is no separate charge for IP service, unless I suppose, you want to use them for a personal web page or E-mail account.

Monday, October 29, 2001 09:30 am pst
Gotta get packed! Mr Bill is moving. Not much news interesting on the web. However, if you are thinking of buying CPU's, you should wait a few days. Intel just announced a price cut today and AMD will announce one tomorrow. A dual processor motherboard is a good buy considering you can start with one CPU and add the second later when the price drops.

Friday, October 20, 2001 23:00 pm pst
Check over at 2CPU to see a picture of TYAN's AMD 760MPX motherboard. Memory is registered or unregistered DDR (4 slots) and there are six PCI slots (two are 64bit/66MHz). They say the only other integrated feature is a 3Com 10/100 NIC. Look at the heatsink on the chipset!
Bored? check out Cowboy Bebop! The animation, story lines, and sountracks are great! Follow Spike, Jet, Ed, Fay, and their dog Ein as spacefaring bounty hunters. Rent a DVD and see if I'm not right.

Friday, October 12, 2001 20:00 pm pst
Just finally updated my hardware configuration in Ghostwheel. I'm using Merlin to administer the group and I'm still using Lanczos as my computer at work. I get 8-12 SETI units a day from Ghostwheel.

Tuesday, October 09, 2001 00:30 am pst
So, waiting to see if the new Athlon XP's and MP's get released today after the NDA's expire at midnight. My guess is that the MP's will have the higher prices but will be released at higher speeds. Nils Dahl has a cryptic note over at Van's Hardware about todays release which makes me think this is the case. See Yesterday Today and Tomorrow. Suggestive eh? On other topics I've got to check my links more often. Some of the old hardware links that passed into oblivion now lead to Pron sites. I chopped the two I found. Lets see in other news I put a gigabyte of ECC PC133 CAS2 memory into Lanczos a few weeks ago but never got around to updating. I'll do that soon.

I've got my little PC cluster set up here in my apartment. I have a Fujitsu Speedport DSL modem and a 4 port Dlink DI-704 gateway/firewall/switch. I just bought the DI-704 for my 4 PC's so I can have a little firewall and the fastest possible (but still cheap at $70) communication between them. Super easy to install Its a true switch and not just a hub. Here's a link to the DI-704 Review over at PenStar Systems. Just now I have three PC's connected and when I move then I will have 4 connected through this switch. I also have a 4 port hub just in case I need to hang two more off one of the mains. To set up the gateway, you just browse to an IP address (inside the gateway) from one of the four ports to configure the switch. I chose to have it use DHCP to generate all the IP addresses. I tested my firewall using Shields Up over at the GRC website. According to GRC my computers are totally stealthed. Its my first step toward cluster computing. This switch is super fast as I have found while using VNC.

Go to VNC's web page and check out VNC. Virtual Network Computing (VNC) is sort of like X-windows for non-unix users. But its very tiny (<500K) in size. Its distributed under the GNU license. It works on Linux, Solaris 2.5, Windows 9x/NT/2000, Mackintosh (68K or PowerPC), and Dec Alpha platforms. VNC lets you remotely monitor or control PC's over an ethernet LAN. Its easily installed as a WinNT service. As I write this I have three minimized windows on my desktop which are connected to one PC up at work and two other PC's here at home. When you maximize the window you see the PC screen just like it is there and you can use it just like you are sitting there. Its super easy to install, you just execute it and give it a password for each PC then you start the VNC viewer give it the PC name and password and you are there controlling it. Once having set up my boxes here; there is no need for most of them to have video, keyboards, or mice connected; just power and ethernet. Is that cool or what??? I've just requested Zelazny to reboot and I'll see if I can reconnect. Yep! with VNC installed as a system service you can log right back in as soon as it has booted! Another interesting factoid for you computer nerds. I had stealthed Zelazny for up at school by removing all Windows TCPIP protocols and running them through NetBIOS instead. This made Zelazny invisible on our UI internet and also made it impossible to share anything on Zelazny although Zelazny could see out to other shares on the UI net. But VNC must open its own portal because it goes both ways right across it no problem. In a final burst of coolness I forsee that I can hook up my Linux box as my main use machine and then run my WinNT applications on a dedicated box through a VNC viewer inside Linux. Not quite as complex and definately less costly than using VMWare's $300 solution to running WinNT inside Linux. Naturally you may wonder how secure is VNC and how secure can it be. This link show how to use Secure SHell SSH to encrpyt all the traffic.

Monday, October 01, 2001 09:25 pm pst
Today I ended my postdoc and joined the ranks of the unemployed. Of course I am looking for another job. I've just recently added a TEAC CD-RW model 516EB to Merlin. I first checked out reviews at Storage Review and CDR-Info. Their review that sold me on the Teac CD-W516EB versus the Yamaha CRW2100S. Heres how it finally went down...

I'm starting to think I am a typical consumer. Only one difference I want the best bang for my buck. I do some web research first before I buy. I did look around the local stores to see what they were selling but the web research paid off and I realized they were selling either for too much money or off-branded lower performance er... junk. I had already decided to compromise and buy an ATAPI device instead of SCSI. My SCSI Plextor 4-Plex drive died and after many communications from Plextor I got no replacement even though they promised to send me a reworked Plextor 12plex. By then I already had a Plextor 14-32X CDROM but I was starting to rebel at the prices. Then I bought the SCSI Toshiba SDM-1401 DVD-ROM. It got a very good review over at Storage Review and at PenStar Systems It was relatively cheap ($55) plays DVD's and CD's just fine and so I began to think I wanted an inexpensive DVD-ROM but also to burn CD-RW's. After a bit of looking around I realized that all combination DVD-ROM CD-RW were both slow and expensive. The closest I could come was around $100 for the Toshiba DVD-ROM CD-RW combo. But that was $100 ($210 in the local computer store) and only an 8X burner. I could get both the DVD-ROM and a CD-RW mail order for less than I would pay for the combined drive, and faster, and good quality. After looking at the IDE devices I was very attracted to the Yamaha CRS2100S for price (<$100). After reading the review of the Yamaha CRW2100S at Storage Review I realized it would be noisey and maybe a problem, thus the low prices. The Teac CD-W516EB reviews at Storage Review and CDR-Info suggested a faster, quieter, better drive. So, I went off to Googlegear and got it with Direct CD 5 basic for $155 including shipping. Its $100 for the bare drive just in case you are interested. I'm happy, it burned a full CD of all my pictures in less than 5 minutes.
My favorite news, hardware review, and software websites:
Google / Amazon
The Tech Report
2CPU
Lost Circuits
Ars Technica
Groklaw
BBC Sci News
Wikipedia
I, Cringely
Dan's Data
DailyTech
AnandTech
Slashdot
the Inquirer


More news and amusement:
The Joy of Tech
Pro Cartoonists Index
User Friendly
The Order of the Stick
The Dilbert Zone
Lab Initio
The Onion
GJC Weather
InternetMovieDatabase
GJC Movies
Burning Issues
BBC Sci News
BBCi
Space.com
Economist
InfoWorld
EE Times
NewsForge
Chronicle of Higher Education
Christian Science Monitor
American Institute of Physics
Sky and Telescope
Scientific American
PBS
NPR
Wired News
Lawmeme
A Prarie Home Companion
EFF
O'Reilly Network
Salon.com
Pravda
WiFiNetworkingNews
The Register
Cowboy Bebop
Strangecandy
Niko-Niko Net
Animefu
AMD Zone


Storage technology:
Storage Review
CDR-Info
CDRLabs


Digital Camera/Sound Reviews:
For The Love of LEDs
Imaging Resources
Megapixel
PCAVTech
3DSoundSurge


Wide Open Spaces:
The Aggregate
Chip-Architect
The CPU Index
NPDES
SW-846 On-Line
HP 4500
ITER
US Fusion Energy Science Program
Global Volcanism Program
New Zealand Geothermal Association
US DOE Geothermal Energy Technical Site
International Atomic Energy Comission
WRI 1 to WRI 9
WRI 10
WRI 11
Mineralogical Society
AGU
American Institute of Physics
Mineralogical Society of America
Geological Society of America
Geologic Time
Granite...
JavaMELTS
Coelacanth The Fish Out of Time
LISTSERV at Syracuse University
EARTH CHANGE MAPS and MAP DATABASE
National Geophysical Data Center
Mars Global Surveyor
Hubble Space Telescope
NASA OSS
NASA Planetary Photojournal
Arecibo Observatory
Single Crystal X-ray Facility
UI Web Cam
Judaism 101: Shabbat
Godel's Incompleteness Theorem
Web Elements
WIPP
Microbeam Analysis Society
iSCSI
SA-SCSI
Intellectual Property Network
SOLA Hevi-Duty


Software I Use
Virtual Network Computing
RealVNC
TightVNC
OpenSSH on Windows v3.4-3
Pegasus Mail
Mozilla
K-Meleon
3D-FTP
Open Office
WinDVD
Nero
Second Copy 2000
Partition Magic
Drive Image
WCPUID
Matrix_ks ScreenSaver


Benchmark Software I Use
Sciencemark
IOMeter
SuperPi
clibench
JavaLINPACK
POVRAY


Software I Plan to Use
OpenSource
SourceForge
PUTTY
OpenSSL
Firedaemon
FreeDOS


DMCA, GPL, Open Source:
Chilling Effects
EFF
Lawrence Lessig
Open Office
SourceForge
OpenSSL
OpenSource
ARL: Copyright and IP
Caldera vs MS
MS gets away...
US vs MS


A few hardware and software guru websites:
Ace's Hardware
Computer Hareware Links
cmdrtaco
Chip-Architect
Paul Hsieh's Web page
sandpile.org
Inquest Market Research
2600
Cypherpunks
Cryptome


More hardware review sites:
Blue's News
Shack News
JC's ChipTech
PenStar Systems
RealWorldTech
HardOCP
Van's Hardware
digit-life
ixbt-Labs
Game PC
OcUK
OC New Zealand
OC Australia
UGeek
accelenation
AMDmb
SharkyExtreme
Tom's Hardware


A few gamers websites:
Beyond 3D
Maximum3D
ShugaShack
Tweak3D
HardwareCentral
Thresh's Firing Squad


Recommended Cooling, Memory, CPU, Motherboards:
Google/Froogle
Headroom They sell headphones
Amazon New&Used Books, Etc.
Fujitsu MO drives Most reliable archive storage
Crucial Memory Best prices, fast, lifetime warranty
Provantage Magneto Optical Media, good prices, happy
Hyper Microsystems SCSI components, used once, happy
Directron Cases, good prices, fast, used often
NewEgg Components, good prices, fast, used often
Centrix-Intl Really cheap server component leftovers, happy
TC Computers Higher prices, good availability, good customer support, not recently used
ThinkGeek Mostly Harmless
Computer Geeks Grapevine recommends, never used
SoftwareAndStuff Some good leftover deals, used often
DirectDeals WNT4 for $30
1CoolPC Heatsinks, Fans, a little pricey, honest
1Nexfan Fans, Heatsinks, used often, fast, great prices
KD Computers Heatsinks, Fans, happy
KVM Switches bought an IOGear MiniView, happy
PriceWatch Mostly Harmless
NiMH Batteries Good Prices


Some Benchmarking / Overclocking Websites:
Void Your Warranty
Water Cooled CPU's
Overclockers Workbench
SysOpt.com
Overclockers.com
Heatsink-Guide
CliBench
CSA Online
Benchtest.com


Linux related:
linuxjournal
LinuxHardware
Linux Online!
Linuxnewbie.org
AboutLinux
GeekNews


Linux, BSD, NT, OS/2, BeOS websites:
SuSE
Linux+NT-Loader
Redhat
Nanocrew
Free Network Project
GNU's Not Unix!
Wine Project
XFree86 Project
Guide to X-Window Managers
VMWareNT in Linux (expensive!)
Linux 3D Gaming Initiative
FreeBSD
NetBSD Project
NT Workstation
Forgot your NT admin password?
Hobbes OS/2 Archive
OS/2 Supersite
OS/2 Master Updates Page
Ext-OS2
OS/2 v4Warp Fixpacks
BeNews
BeBits
Be


Some Interesting Sites
The One Ring
GeekT
The Urban Legends Top 25
Courtney Love Does the Math
Gerbils Color Palette
Despair, Inc.
Endicott Studio
Chaos Manor
Basement Full of Books


Federal Government Links:
White House
Democrats.Senate.Gov
U.S.Senate
US Dept of Labor
FBI
National Infrastructure and Protection Center
Department of Defense
LANL
SNL
ORNL
LLNL


Search Sites
Fast
Google
NorthernLight
Search Engine Watch
Netcraft: what is that site running?
ZeroPaid
Digital Archive Project


Reviews that have impressed me a while back:
Pentium4 vs. Dual P3 Bert McComas
Socket-A VIA KT133 Motherboard Roundup - August 2000 AnandTECH
Abit Socket A KT7 Review HARDOCP
Ace's Guide to Memory Technology, Part 2 Ace's Hardware
Ace's Guide to Memory Technology Ace's Hardware
KA7 RY Public Beta BIOS Abit's FTP Site
Codename: Thunderbird Ace's Hardware
How the Web was Almost Won Tim O'Reilly
SuSE 6.2 Impressions Alan Kennington
Review of KDE 1.1Ars Technica
The Athlon: 7th Generation or Not? Ace's Hardware
7th Generation CPU Comparisons Paul Hseih
AMD's Athlon: Paranoia Realized Ars Technica
Into the K7 Part II Ars Technica
Into the K7 Part I Ars Technica
The Quest for Better Performance, Part 2 Ace's Hardware
The Quest for Better Performance Ace's Hardware


Dual Athlon Reviews:
Dual Athlon MPX Chipset:


Game PC
Asus A7M266-D


Game PC
Prestonia Xeon 2.0 GHz vs. Athlon MP 1900+


AnandTech
AMD's Athlon XP 2100+ The Last of the Palominos
2-CPU
Tyan Tiger MPX (S2466)
accelenation
Tyan Tiger MPX
AMDmb
Tyan Tiger MPX (S2466)
Tom's Hardware
A7M266-D, K7D Master


t-break



Dual Athlon MP Chipset:


AnandTech
Tyan's Tiger MP: Affordable Multiprocessing


AnandTech
AMD 760MP & Athlon MP - Dual Processor Heaven


Lost Circuits
Tyan S2460 "Tiger"


Ace's Hardware
Workstation Guide: Part 1
2-CPU
Tyan Tiger MP (S2460)
AMDmb
Tyan Tiger MP (2460)


Manufacturer Links:
Dual Athlon Mainboards:
TYAN Tiger MP S2460
TYAN Tiger MPX S2466
MSI KD7 Master-L


Previews Dual Athlon MPX:
AMD3D
Asus A7M266-D
AMD3D
MSI K7D Master


Older Mainboard Reviews:
Slot-A KX133
Dan's Data
Abit KA7-100


The Tech Report
Abit KA7


AnandTech
Abit KA7
Overclockers Australia
Abit KA7